Back to school , choose the right desk!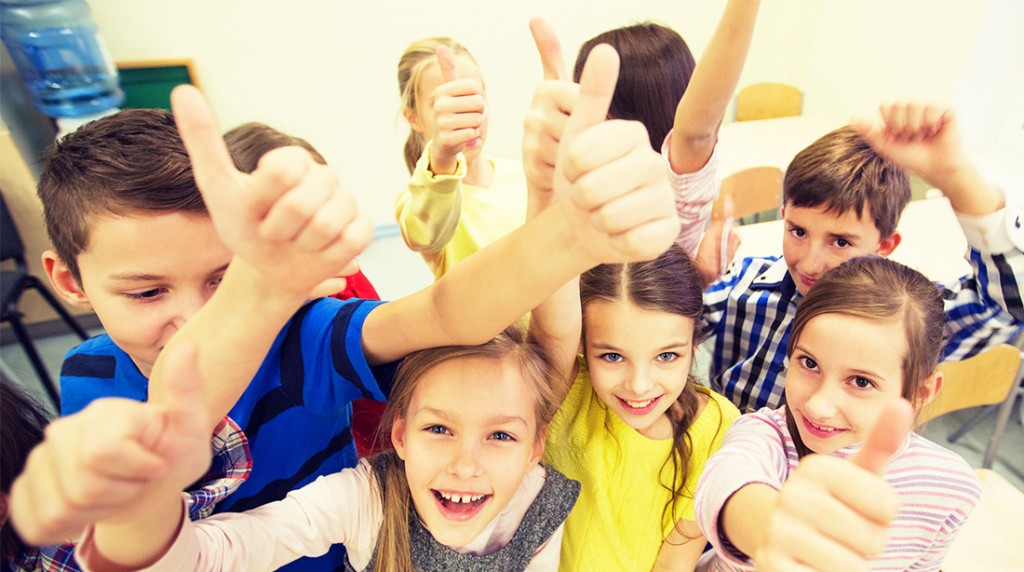 School will start again and you need to change the bedroom of your kids?
Why not start right from the choice of a new desk, the most exploited and indispensable element of their bedroom. The guys must be totally involved in choosing a desk that meets their tastes, but be careful not to choose a desk with a too childish design, becouse they must use it for many years at school and they may get tired. The important thing is to remember not only to follow the style of the room and then the desks which are in harmony with the rest of the room, from the point of view of the style and of the colour, but also choose a confortable and durable product. About the choice of colours, you might opt for a desk from similar tones to the rest of the forniture of the bedroom, or that contrasts and become the main element that attracts attention. There are desks with colours more elegant and sober, such as white, light blue and walnut which easily combine with all, and desks with brighter tones and vibrant, like red lobster, orange and cedar green for a more lively and youthful atmosphere. The materials with which the desks are made must be among the strongest and the thicknesses must be such as to ensure the stability and durability.
Our Oliver collection offers various solutions to choose the right table: practical, original and durable.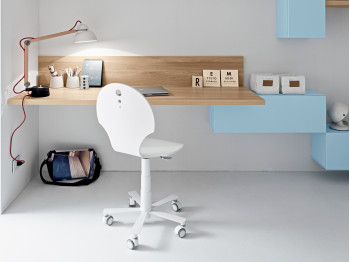 Suspended desk for a light visual effect that gives great freedom of movement under the desk, the new simple and functional structure for the study area with a natural elegance, available in six structure colours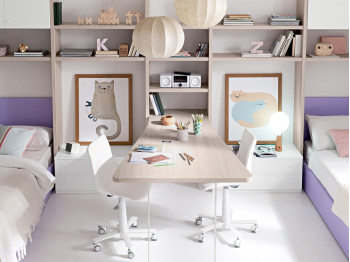 A desk that provides you two confortable seats and plenty of space to study, available in sixteen structure colours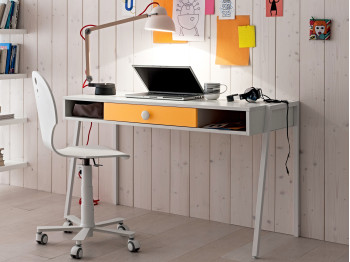 Desk with integrated drawer and the metal legs, with minimal design and industrial appeal, very real and independent from the rest of the bedroom ; the touch of colour makes it lively and cheerful, available in six structure colours and the drawer in sixteen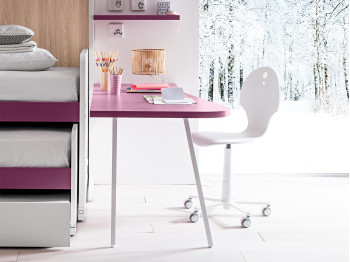 Contoured desk and ergonomic, edgeless, practical and safe that rests one side to the wall or to the library, when wall space is little, available in sixteen colours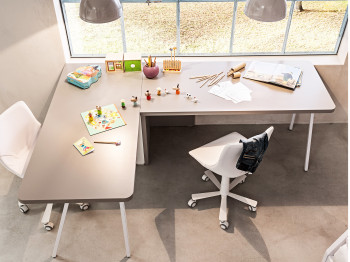 Desk with two large seats and four metal legs, for a double solution for study and play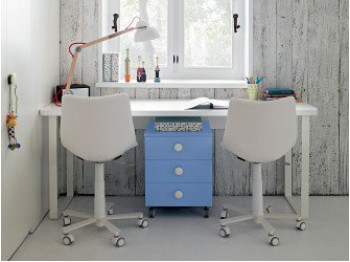 Desk with two seats side by side and coloured drawers in sixteen colours, a solid work surface available in sixteen colours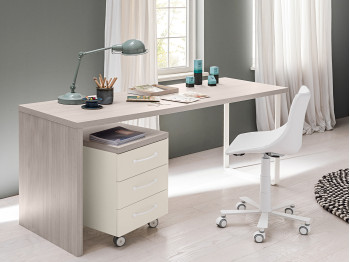 A contoured work surface, a white painted leg shaped "U", one side shaped "L", a chest of drawers with wheels and a padded chair…and creates a functional workspace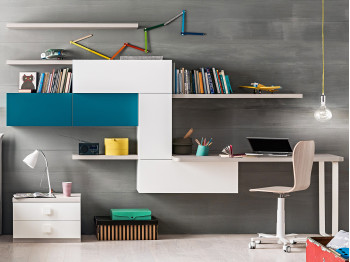 Desk integrated in the library that creates a real working space